Clarify your unique message
Want to read your dream client's mind, solve bigger problems, and turn visitor into a loyal customer?
That's why we created the Branding Launch Pad! We clarify your core brand message to answer questions your leads want to know before becoming a loyal dream client.
This document gives you the framework to write powerful copywriting and stand out from the crowd with a captivating story. Plus, we include a design direction to inspire the visual components of your brand!
You'll finally have a clear vision of what makes your business unique and the foundation you need to build a powerful, timeless marketing strategy.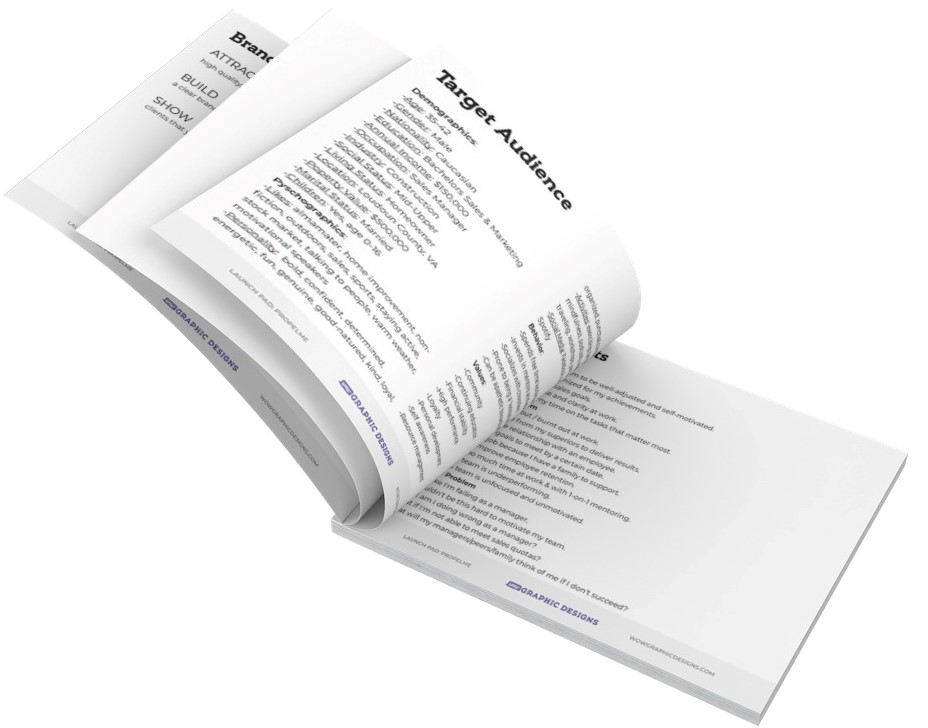 "Thanks!! I'm so glad I started the process- it definitely helped me gain more of a direction to where I need to go."
Launch your brand in less than 8 weeks!
Starting from scratch? Rebranding? Fill out our contact form to request a Clarity Call! We will briefly learn more about you, your business, and your digital marketing needs. This helps us determine if we're the right team for the job.
If it's a match, we'll start by clarifying your brand with our Branding Launch Pad. This starts with a Discovery Consultation where we dive deep into your story, and ends with a physical marketing & design strategy.
If you want us to execute your Launch Pad, we will help you choose a custom website package. Then, you get back to doing what you love most! Have peace of mind knowing that your website is taken care of by a team of industry experts.
Branding Launch Pad
2-3 hour Discovery Consultation

1-3 Target Client Persona(s)

Copywriting Sentence Starters

Page Content Section Outlines
Go from confusion to clarity.
start increasing sales with the Branding Launch Pad.